Grass is never just grass!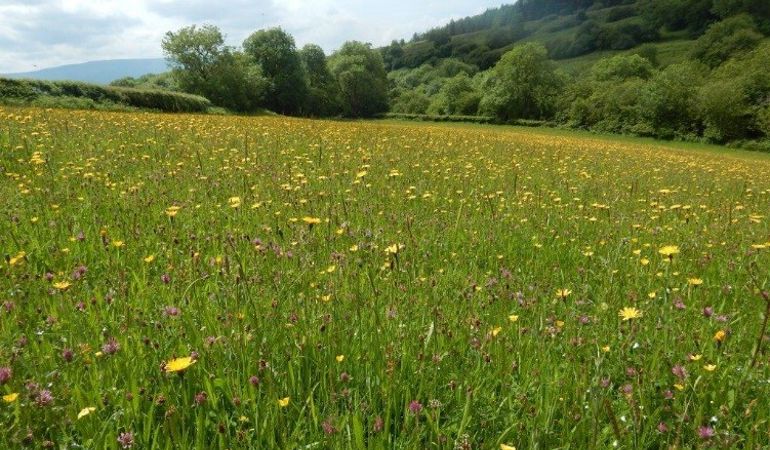 Here, NRW grasslands ecologist, Stuart Smith, lifts the lid on what's out there…
Grasslands are some of Wales' most varied and diverse habitats.
They range from ultra-dry calcareous and acid pastures; lush flower-rich lowland meadows; to tall, rushy swards on damp soils. And each type supports a wealth of different plants and animals.
Grasslands are also among our most threatened ecosystems. They are particularly vulnerable to changes in land-use such as an increase in the use of fertilisers or, at the other extreme, just being neglected.
Grasslands cover the bulk of the land area of Wales. But most of them have been 'improved', which means the soil has been artificially-enriched. In this state, they support very little species diversity.
More than 90 percent of our lowland grasslands were lost between the 1930s and 1990s.
Traditionally-managed grasslands were once part of every farm. But a species-rich meadow is a rare sight these days.
Thankfully, the rate of loss has slowed in recent years. Habitat protection schemes and more sensitive land management have played their part in starting to turn the tide.
Species rich grasslands can still be found in a few areas - such as this one (main image) at Berthlwyd Farm in Brecknock.
Grasslands also form some of our most iconic landscapes - such as the rocky limestone slopes of south Gower coast in west Glamorgan or the grasslands of the Great Orme's Head, Conwy. Grasslands can also be of great cultural significance too – for example the damp rhos pastures of parts of west Wales and the south Wales coalfield.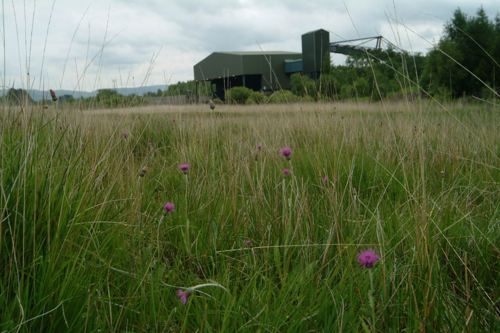 Protecting grasslands
Because our important grasslands have become so reduced and are so threatened, we need to put measures in place to protect them and give them a helping hand.
Protected sites have shown to be really effective at this and, if coupled with better management across the landscape and an improved awareness of the importance of grasslands, may mean their fortunes will improve.
Survey work in the 1990s and 2000s, identified more than 1000 grassland sites in lowland Wales, but these are often tiny fragments and in poor condition. Now, we are working towards making sure that the very best of these are legally protected as SSSIs or Special Areas of Conservation (SACs).
Projects
Local projects can also make a significant contribution to grassland conservation.
Several grassland projects are currently running in Wales, including one based in the Llyn Peninsula which trials 'payment for results' as part of agri-environment schemes. This means that farmers take on the responsibility to improve the biodiversity on their farms, and are paid for what they achieve, rather than just following a set of management prescriptions.
We've also been identifying and assessing the quality of meadows and other grasslands in the Dyfi area. A follow-up project is planned to improve how they are managed as a key part of managing the area's natural resources in a sustainable way.
Producing food in a sustainable way
Species-rich grasslands can form a key component of sustainable farming.
Grasslands are fantastic places to rear animals for high-quality meat production while also providing other valuable ecosystem services - from being a great habitat for pollinators to storing increased levels of soil carbon.
Here, Welsh Black cattle graze a cut meadow in Ceredigion. Keeping the meadow grazed down in the autumn helps to stimulate the growth of wild flowers the following spring.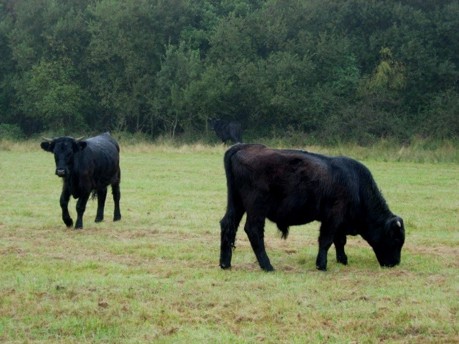 And what about other wider benefits?
Unfertilised grasslands conserve important soil stocks and help provide clean water to streams and rivers.
And there is increasing evidence that managing grasslands sensitively in the uplands and upland fringes can increase the land's capacity to hold water – reducing the risk of flooding in lower lying areas.
Indeed, conserving and managing grasslands are essential elements in managing Wales' natural resources in a sustainable way. Our native grasslands are wonderfully diverse.
This is important as the diversity of habitats and the species they contain makes an important contribution to ecosystem resilience, and this is fundamental for sustainability.
And the better we understand and appreciate our wealth of grasslands and what they offer society, the more we will enjoy and protect them for future generations.