Further exciting job opportunities in flood and coastal risk management at #TeamNRW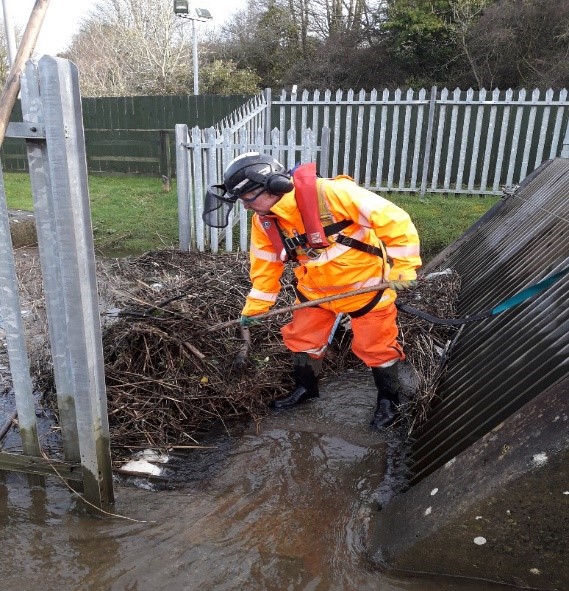 The climate emergency is something that will affect all of us, and while events like The United Nations Climate Change Conference (COP26) look to combat it on a global scale, as an organisation with flood protection as a cornerstone of our work we also have to look closer to home.
It's predicted that Wales can expect more severe and frequent storms, higher sea-levels, and increased rates of coastal erosion in the future which means it's more important than ever that we have the best and brightest working to protect Wales' communities from flooding.
In making sure that we are in the best shape we can be to meet these future challenges, Flood and Coastal Risk Management (FCRM) are recruiting to the team. Building on a successful recruitment campaign in 2020 these additional posts cover the breadth of flood risk management work, so we hope there are opportunities for a wide range of people to come and join the team in the coming weeks.
Michael Evans, Head of Operations for South Wales Central explains more about the new recruitment campaign, the work we do and about what you can expect from being part of #TeamNRW. 
Why work at NRW?
NRW is at the heart of making sure Wales' natural resources are being used sustainably so that future generations can benefit from them. FCRM has its part to play and we look to manage flood risk by using natural flood risk management techniques to slow down the rate that flood water reaches downstream areas. NRW is passionate about developing its people. When you join the FCRM team, we will build on your existing skills and qualifications and help you to develop your future career with us.
What's Flood and Coastal Risk Management all about?
The work of FCRM is extremely varied. The vital work that we do reduces the risk of flooding in Wales, here are just a few examples of how we do this:
Building and maintaining flood defence assets and removing obstructions from our rivers
We identify the level of flood risk in Wales by using new mapping and modelling technologies
We monitor and forecast river and tidal levels and then warn the public so that they get as much notice as possible to take action.
We have teams on standby 24/7 to close flood gates and to operate pumps when called upon.
We run flood awareness campaigns to highlight the risks of flooding and what actions you should take to reduce that risk.
What roles are we recruiting to?
The roles that we are recruiting to reflect the breadth of what FCRM does. We are recruiting to a number of posts, which will cover a wide range of technical and operational roles.  Too many to mention here individually but here's some more information on just a few of the teams that are recruiting.
Integrated workforce teams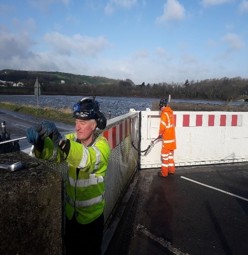 The Integrated Workforce teams play a vital role delivering our capital and routine maintenance works. The work helps make sure that flood risk assets like flood embankments are maintained to the required standards and grids and screens are kept clear of debris so that the risk of flooding is reduced.
The Integrated Workforce teams also play a crucial 24/7 incident response role by responding to incidents such as flooding and pollution.
Good practical skills with tools and equipment is good to bring to these roles.
Hydrometry and telemetry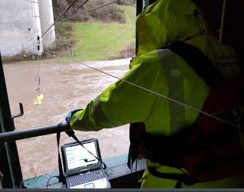 The Hydrometry and Telemetry (H&T) teams provide an important service to FRM in managing flood risk. We rely on the network of hydrometric gauging stations and rain gauges that the team maintains to monitor the river and rainfall levels across Wales.
The team also carries out river flow measurements for a range of other teams and purposes in NRW.
Incident management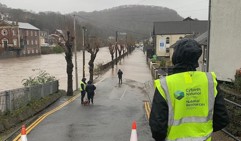 The Incident Management Team have a wide remit, dealing with all kinds of environmental incidents, as well as incidents that impact our day to day operations. 
The team develops policy, guidance and procedures and creates and delivers training and exercises, to test and maintain our preparedness and response capability.  The team also engage regularly with multi-agency and professional partners, such as the Fire and Rescue Service, Police and Local Authorities. 
NRW's Incident Communication Centre (ICC) Officers are a key part of the team, receiving and responding to reports of incidents 24 hours a day, 365 days a year.
So, if you're interested in a career with us in flood and coastal risk management…
These are just a small cross-section of teams that highlights the work we do. We will be posting blogs and vlogs from those who already work in the FCRM teams that will tell you more about the work we do and the sort of skills that are needed, so keep an eye for them on our website and social media pages. You can find a full list of our vacancies here. We look forward to hearing from you.