Tree planting forges new land management partnership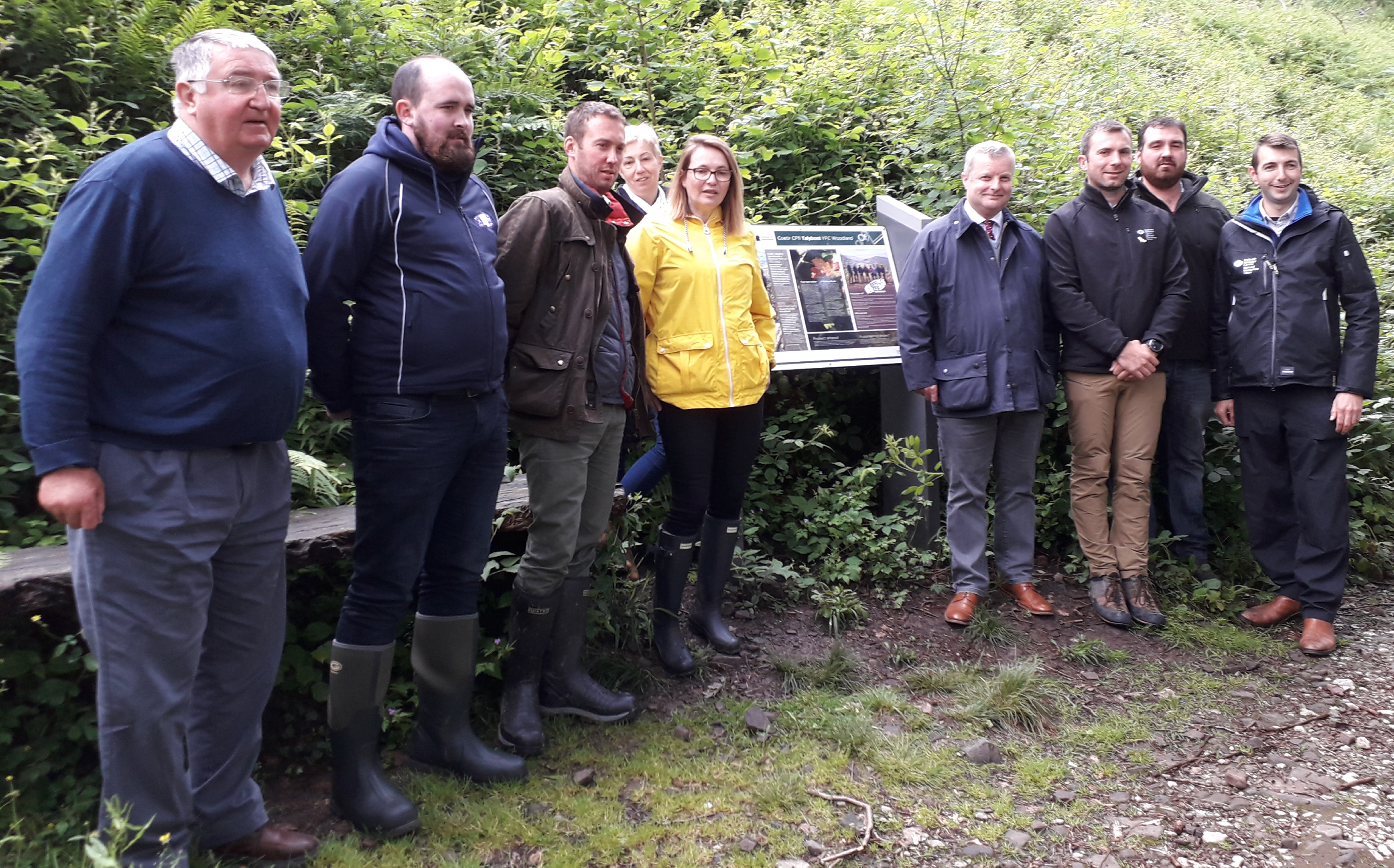 A new area of woodland has been officially opened, to pay tribute to the Wales Federation of Young Farmers Clubs (YFC), which recently celebrated its 80th anniversary.
A total of 6000 saplings were donated to the Wales Federation of Young Farmers, one for every member, by the Brecon Beacons, Pembrokeshire Coast and Snowdonia National Park Authorities, together with Tilhill Forestry. 
Brecknock YFC used 200 oak saplings from the donated trees to create Talybont YFC Woodland, on an area of land offered by Natural Resources Wales (NRW), who also donated additional trees.  
Officers from NRW and a group of volunteers from Brecknock YFC planted the saplings in March 2018 and January 2019, as part of a mixed deciduous woodland, along the Taff Trail in Talybont forest.
The planting of this YFC Woodland encourages organisations to work together to create a better environment.
Trees provide recreational activities that are good for our health and mental well-being, they help reduce the risk of flooding and improve air, water and soil quality and are home to much of our wildlife.
Hefin Evans, Rural Affairs Chairman for Wales YFC said:
"The old adage that 'from little acorns, big oak trees grow' is reflected in the opportunities to gain new skills and experiences and make lifelong friendships that the YFC has provided its members over the last 80 years and will continue to provide. 
"The YFC woodland has been planted in an ideal location for the public to see and appreciate as the woodland matures.
"This joined-up approach to managing our natural resources to create a healthier and more resilient environment is a fitting tribute to the largest rural youth organisation in Wales."
Michael Cresswell, land management officer for Natural Resources Wales, said:
 "We're really proud to support Brecknock YFC - this work will hopefully increase young farmers' understanding of what happens during forest management, which will hopefully create more joined up land management in future generations".
Chris Davies MP, Chair of the All Party Parliamentary Group on Forestry, said:
"I am very proud of Brecknock YFC, who have taken the initiative and have been fully supported by NRW in this woodland scheme. This is the first such collaboration in Wales and I hope the rest of the UK will follow both in private and public woodlands. Well done to the YFC."
Traditionally, an 80th anniversary is symbolised by the oak, which denotes strength and longevity, with branches resembling a growing family and acorns promising growth and unlimited potential.